The Forefront Journal publishes essays from the frontier of consumer and social crypto. This is a guest essay from Aleksija Vujicic.
---
In the future, fashion and commerce will be phygital (no matter how much you hate the word). It could look a little like this:
After purchasing a Staud bag online, it arrives embedded with an NFC chip. A quick tap of your phone mints its digital twin as an NFT in your digital fashion closet (DFC), a social platform where friends & followers can see your fashion items, and what you're doing in them.
At a Staud x New Balance event in SoHo, scanning your bag earns you a POAP, f joins your bag in your DFC. As a thank you for attending, both brands drop you a 10% discount. Fast forward: you're at a Drake concert, and he digitally autographs your bag. Your friend Emily 'likes' the signature and teases, "Introduce us? 😍". Finally, the bag reminds you of Mediterranean summers, so you curate a Spotify playlist called 'Sobremesa' and link it to your bag via your DFC.
Eventually, you decide to resell your bag which, having attended events in New York, met Drake, and accumulated some great music, has a higher resale value than a regular Staud bag. Plus, this experience has strengthened your connection to Staud, making you more likely to buy from them again in the future.
This imaginary phygital experience may sound far off, but the tech stack is just around the corner, and with it lies a new world of brand and consumer experiences.
What the Phygital?
An (obvious) portmanteau of the words physical and digital, phygital goods pair physical goods with their digital twin, often via Near-Field Communication (NFC) Chips. Ideally, this twin lives on-chain as an NFT. A number of tailwinds are driving the adoption of this technology, unlocking previously inaccessible features and experiences for brands and consumers alike. There are five main areas which I expect phygital technology to revolutionize:
1. Your Digital (Interoperable) Twin
The Tailwind: Digital Wearability
As new, younger generations spend more time in the 'metaverse,' their desire for their digital appearance to mirror their real-world style will grow. In fact, research conducted by IoDF and others has shown that, while there is certainly demand for some magical realism, the majority of users hope to accurately represent their real-life identities in their digital avatars – which extends to fashion choices. Phygital items make this easier than ever before, duplicating your closet into the digital realm. Ideally, these assets will be interoperable and can be used across multiple virtual worlds.
The Phuture
Luxury brands have taken note of this demand, capitalizing on the opportunity by creating partnerships with virtual worlds including Roblox and Snapchat. Most recently, Ralph Lauren released their limited edition phygital Polo x Fortnite P-Wing Boots, the physical version of which retailed on RL's website, with digital versions redeemed on Roblox. Tommy Hilfiger debuted their FW23 collection simultaneously on the physical runway and on Roblox, with phygital items available to purchase in-world. Luxury luggage brand Rimowa partnered with RTFKT to release a limited-edition phygital cabin suitcase.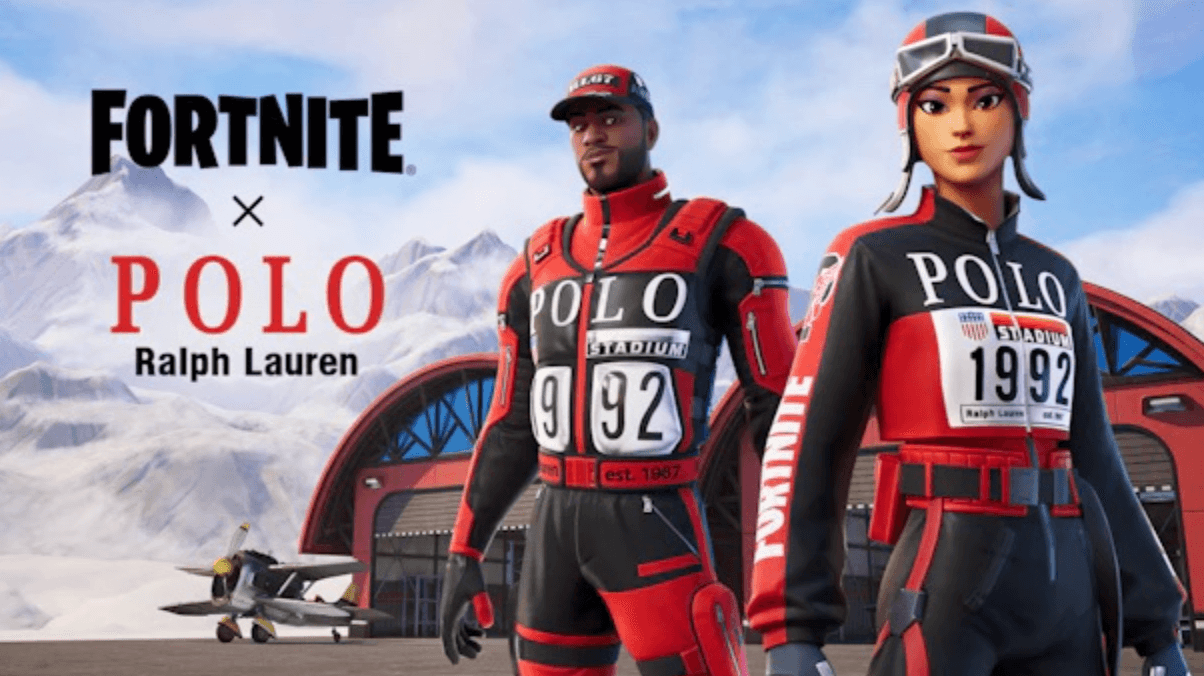 A seamless phygital experience is necessary as "authentically expressing yourself is core to the player experience", argues Epic Games president Adam Sussman. In the future, this will be the norm, with all physical fashion goods available to redeem in digital form (does anyone else remember Webkinz?).
2. Proof of Provenance
The Tailwind: Forthcoming Regulations
Forthcoming EU regulation and consumer demand for supply-chain transparency are making proof of provenance and ownership that much more important — something that phygital goods uniquely enable. The European Union recently introduced the Digital Product Passport (DPP) as part of new sustainability initiatives. This mandates the tracing of the origins of consumer goods, ensuring adherence to environmental and circularity standards. Set to take effect in 2026, it highlights the growing significance of product provenance.
Subsequently, in a report outlining potential implications of the DPP, the Boston Consulting Group and Web3 platform Arianee suggest that this regulation will "accelerate adoption of utilities including product information access, certificates of authenticity and ownership and… [ultimately], virtual product replicas." 
 An on-chain digital twin offers the ideal repository for metadata regarding proof of provenance, authenticity, and ownership.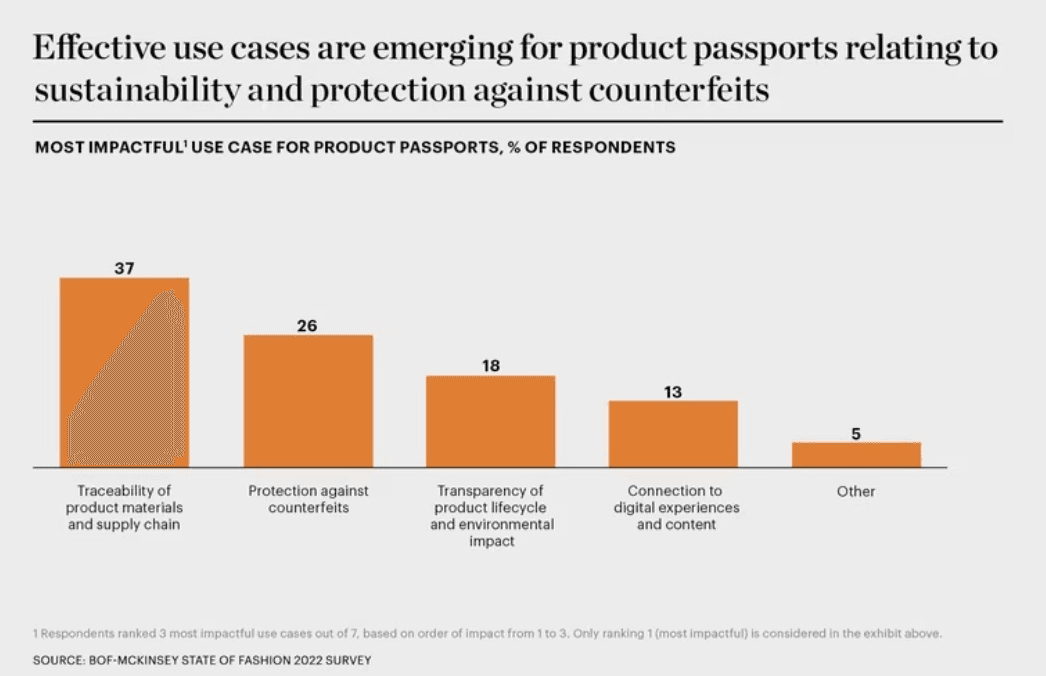 The Phuture
In a post-DPP world, phygital goods with digital IDs that carry information regarding materials, supply chain, manufacturing and general provenance will be a must, not a maybe. Startups like Eon, Evrythng and Arianee, as well as LVMH's own Aura Blockchain Consortium are leading the way, partnering with brands like Prada, Levi Strauss Co. and conglomerates LVMH and Kering to bring the phygital technology to the luxury sector. The idea is that, with a simple tap of one's phone, consumers can gain access to detailed 'eco-credentials' of their items.
Daniela Ott, Aura's general secretary describes a future in which every phygital product holds readily-available data including certificates of authenticity, supply chain traceability from the beginning of the value chain down to resale, and even content such as videos of the artisan who manufactured the watch, bag, etc. This kind of information and connection with the consumer is unprecedented. Ott herself says "especially for young consumers, authenticity and traceability are a must, so if [they're] a must, how do you get that in a cost-effective way to a large number of products? We couldn't do that before [phygital goods].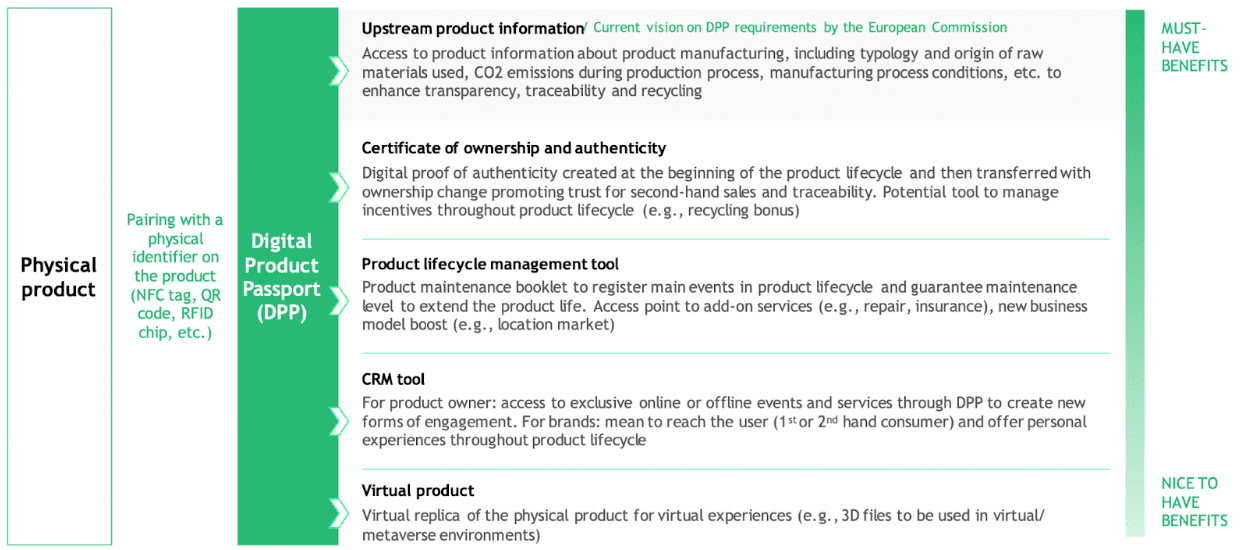 3. Rethinking Resale
The Tailwind: Counterfeits & Fraud
Increasingly sophisticated counterfeits pose continued threats to both resale and luxury markets, and thus authenticating secondhand goods is costly, labour-intensive, and fraught with error. This has led to razor-thin margins that have negatively impacted the likes of The RealReal and other public resale platforms.
The adoption of NFTs and blockchain technology via digital twins allows goods to circumvent these traditional, extensive authentication processes, thus conserving time, costs and resources. Additionally, phygital goods facilitate enhanced traceability in secondary markets, enabling brands to consistently engage with new product owners across the item's lifespan.
The Phuture
Today, fashion resale is a many (many, many, many)-step process whereby consumers manually upload product details on platforms like StockX and Vestiaire Collective, set prices subjectively, send the item for verification upon sale, following which the platform verifies it (a lengthy and costly step) before sending it to the final buyer, who remains unaware of the item's provenance. This no longer need be the case with phygital goods.
Pioneering brands like Chloé and Pangaia are showing how a phygital p2p resale world is just one click away. For Chloé's recent capsule collection, a swift tap of a phone leads consumers to a neat "ReSell" button that immediately connects to Vestiaire Collective. In an ideal future, one click uploads the digital twin to the resale platform, no manual photos needed. A similar process is followed at Pangaia, who recommends pricing predicated upon historical sales data as well as the condition of the item. As the phygital goods at both Chloé and Pangaia are inherently auto-verified, no further verification is required, and sellers can send goods directly on to the buyers. The buyer, in turn, can now maintain a direct connection with the brand via their digital twin. Thus, a true circular economy is finally achieved.
The Tailwind: Rising CAC
As social media platforms have become infinitely more crowded and competitive, and Apple's recent privacy regulations have restricted customer targeting across digital channels, customer acquisition costs have skyrocketed in recent years. In fact, CAC is estimated to have increased 60% since 2018 and 222% since 2013.
This has caused endless difficulties for DTC brands who relied on social media advertising as a primary form of customer acquisition, and share prices of the top 10 DTC apparel brands have fallen as a result – 70% in 2022, compared to a decline of only 32% for the MSCI World Consumer Discretionary Goods Index in the same period.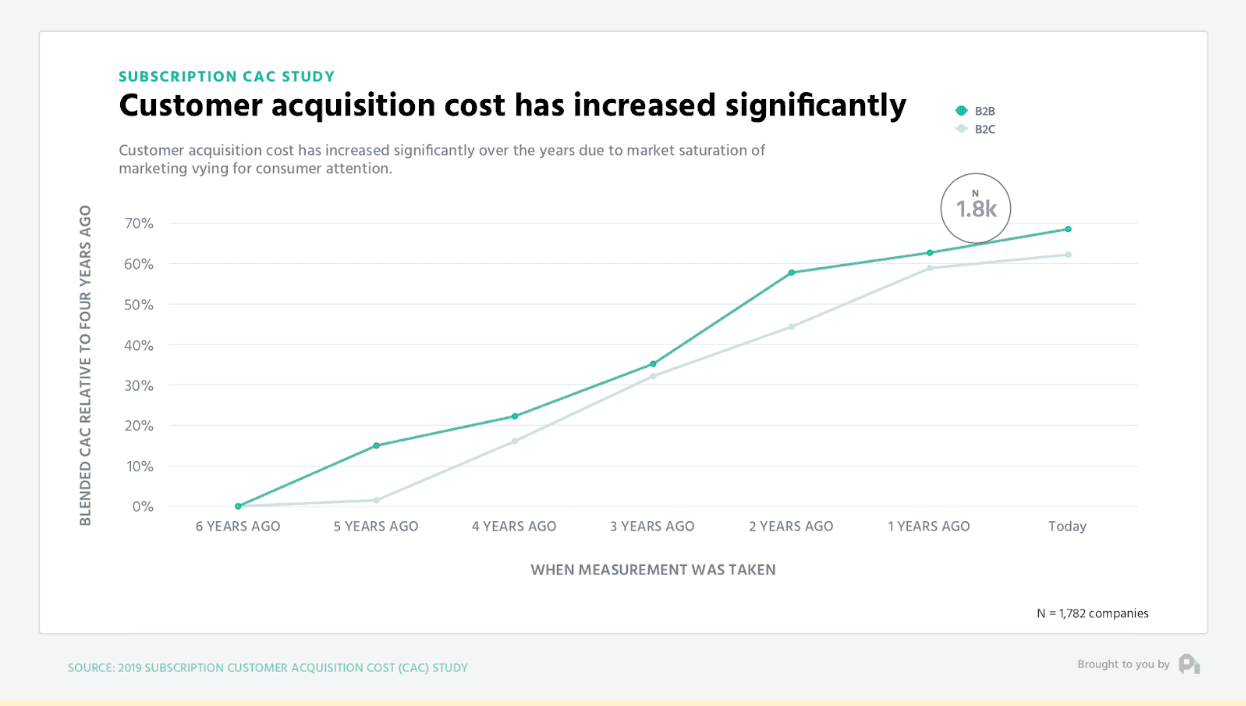 Brands are being forced to rethink their customer acquisition methods, and explore new distribution strategies, off of traditional social media platforms, in order to retain existing customers and reach new ones.
The Phuture
Phygital goods allow brands to bypass traditional social media platforms and connect directly with consumers via their products themselves. To date, brands have been limited to engaging with their consumers in one of four main ways: email, social media, community chat platforms (like Geneva) and IRL events. However, engagement across these platforms, and across the digital and physical worlds, goes unconnected, unattributed, and unrewarded.
With a phygital good, brands can incentivize and track actions across both virtual and physical worlds, creating an unmatched community engagement and loyalty program. Consumers can be incentivized to wear the product, vote on governance decisions, co-create with the brand, share products, attend events, and much more – all tracked via the NFC chip and NFT. In turn, consumers would be rewarded with points that can ultimately be exchanged for products and perks– this is an entirely new world of community engagement.
Brands like Kiki and 9dcc are pioneering this new world:
KIKI: As the first phygital beauty brand, owning a Kiki beauty product (the brand has started by launching a line of 'nail art' products), allows you to mint an NFT, which opens up a world of co-creation and community engagement. Kiki NFT holders earn points by voting on product decisions, sharing Kiki with friends, engaging with the brand on a daily basis, and more. Those points can then be spent across the Kiki universe, on new products and other perks & benefits. At present, the physical product acts like a trojan horse for digital ownership, which in turn presents opportunities for the community to co-create the brand alongside Kiki. I've previously explored why this is valuable here.
9dcc: While Kiki is using phygital goods to incentivize engagement in the digital world, GMoney's 9dcc is taking the opposite approach, by motivating consumers to engage with the physical product. 9dcc continues to run brand experiments, including sending games like black jack to holders on a frequent basis, which consumers only have to tap their NFC chip to play. Playing earns brand points, which can similarly be spent on future products and perks. In addition, consumers can link POAPs to their NFC chips, allowing individuals to collect these digital stamps upon meeting new friends, attending events, and more. In partnership with IYK, the brand also offers the ability to 'digitally autograph' goods, as explored above.
As brands seek new ways to engage with their communities and acquire new customers, phygital goods allow for an innovative, seamless extension to traditional loyalty programs that can incentivize not only engagement with the product itself (heretofore impossible), but more broadly better track (and thus reward) all actions across the digital and physical worlds.
5. Building Product Identities
The Tailwind: Social Commerce
The current growth of the social commerce market (30.7% CAGR from 2022 to 2030) is largely being driven by Gen-Z (to no one's surprise). The stats are, at this point, well-known, yet still shocking – 97% of Gen-Z turn to social media as their main shopping inspiration, 58% of Gen-Z make most purchases based on recommendations from content creators (of all sizes), and 61% have purchased items from ads on TikTok. For these young consumers, shopping is and has always been, an inherently social experience in which the people wearing the products provide context and a sense of narrative. The products themselves, however, have lacked a similar identity – until now.
The Phuture
Storytelling, narrative building and identity have always been at the core of what makes fashion goods valuable. These stories are what allow the consumer to connect with the *brand* rather than simply a product, ultimately creating a longer lasting relationship. Therefore, these narratives have been confined either to said brand, or the individual carrying the product, rather than the product itself. Brands lend heritage, origin stories and more, content creators build context – where to wear a good and how to style it – yet the product itself derives none of this value.
The most exciting unlock of phygital goods (in my opinion), is the ability for the fashion good to move through the physical and digital worlds, collecting "context", thereby allowing each piece to create its own unique identity. Ideally, this 'context' would live and be visually represented in an interactive and aesthetic way. One can imagine a digital fashion closet (or makeup counter), in which digital assets from sundresses to shoes or nail polish are stored, along with the context they collect. This context could consist of:
Event Attendance: POAPs collected for concerts, parties, brand pop-ups and other events can all be linked to your phygital good – like that Drake concert you attended.

People Met: A Nikola Jokic-autographed Nuggets jersey hanging on your wall can only be seen by the few friends who come by your apartment, but a digital autograph can be shared with all of your followers.

Photos: 'Outfit of the Day' style photos get an automatic upgrade when attached to the actual product itself, allowing for instant purchase by followers and outfit-admirers.

Music Playlists: Brands like Aimé Leon Dore and Gimaguas regularly create playlists that reflect the brand identity, further helping create a brand world. This can be taken to the next level when the playlists are created for each product – and linked to the digital twin in turn.

Mood Board: A green knit set takes you down a Gwyneth Paltrow in Great Expectations rabbit hole, as you compile a mood board of photos, writing, and film references on Cosmos. A quick link to your green cardigan provides a fresh source of inspiration for your followers.

Etc…
In summary, as each phygital good moves through the world, it collects its own context, and develops its own narrative, its own identity, and thus its own value. Phygital items, in bringing to the forefront the social experience of each product, inherently create a more social shopping experience as a whole. This is the next era of social commerce.
Phygital Girl, Phygital World
Today, the fashion and commerce worlds are separated by the physical and digital. To paraphrase Draup founder Daniella Loftus, we purchase clothing on digital e-commerce websites, receive and wear the physical items, then post digital photos of our outfits on social media. The physical clothing item is sandwiched by two digital bookends.
Tomorrow, the physical and digital worlds will be bridged, and the majority of fashion experiences will look like our hypothetical experience with Staud – phygital. In a phygital world, the relationship between a brand, its product and a consumer doesn't stop after purchase, or on a social media platform – it transcends both, and thus intertwines an experience beginning with the supply chain, through a first purchase, loyalty program and brand engagement, social experiences, resale and much more.
The phygital revolution (for that is what this is) will finally fulfill the potential that was created when fashion and commerce first went digital decades ago – the opportunity for consumer brands to transcend this world, and become a world themselves.
---
This is Part 1 of a two-part series on phygital fashion. Part 2 will be published next week. Stay tuned!