During Season 2, the Forefront community doubled down on its north star: becoming the pulse of web3 social and supporting the development of tokenized communities. Yet we also charted a new path, one riddled with questions, philosophies, and experiments for building a better, more intentional organization.
Our work was grounded in the idea of the Vibez Infinity Flow, an approach first articulated by Forefront Community Lead Caroline that puts humans at the center of DAO design. The Vibez Infinity Flow centers around a primal reality that exists within each human being that must be accounted for in community design: the inner impulse toward autonomy on one hand, and community on the other.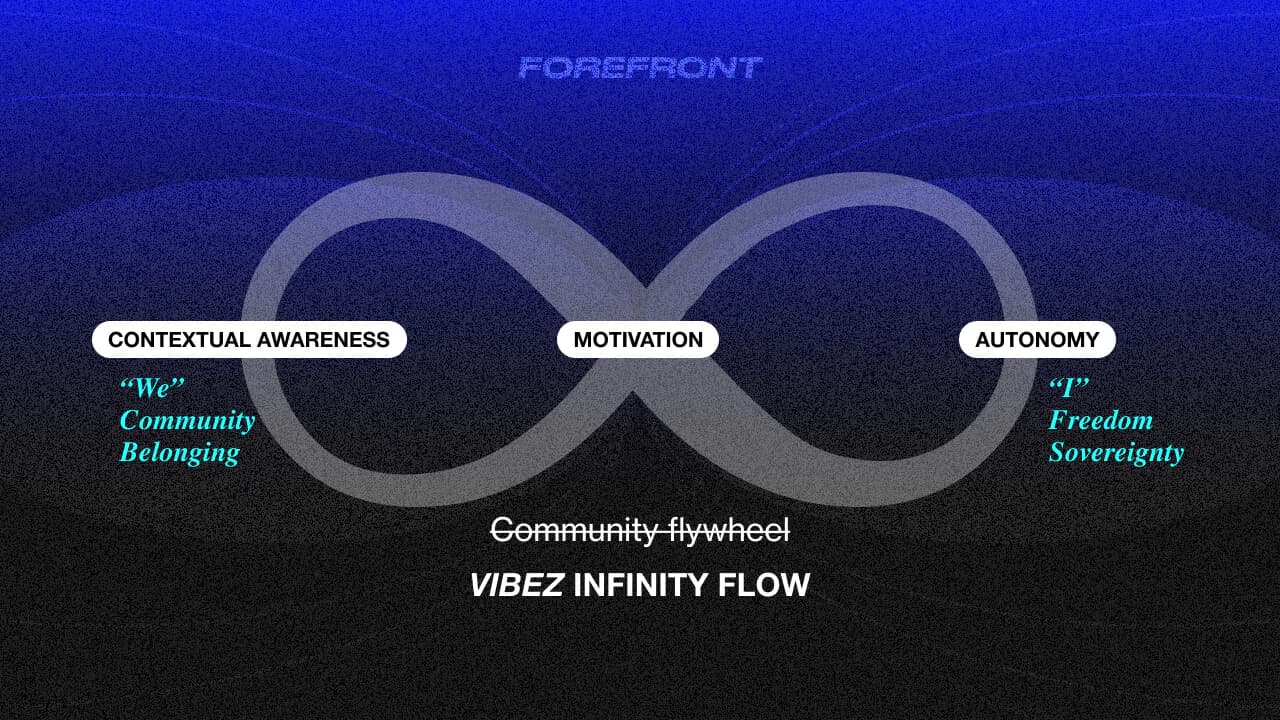 In her original essay, Caroline explained that this manifests itself on two levels. On the individual level, there is a polarity between autonomy and contextual awareness. On the organization level, there is a polarity between decentralization and coherence. Forefront was designed to empower contributors to repeatedly reconcile and harmonize these complementary opposites through their work. Each of our initiatives this season – from the inaugural Web3 Creator Residency, to the emergence of FF Labs, to the incredible insights published on the FF Journal – was an avenue that contributors with different skillsets could latch onto to engage with the community in the way that resonated most.
Multiplayer Expression
A recurring theme around Season 2 was the unforkable creative expression that emerges when you bring creative people together around a common passion.
FF Labs emerged as a site of free-flowing creative jams and digital performance art commenting on the web3 space, where DAO polymaths were given an avenue to shine. From projects like WeRent to Nicolas Gage and more, Labs became the home for creative critiques of many of the problems and discussions we face in web3 every day.
The Web3 Creator Residency was an experiment in community-driven engagement in an artists' creative process. Creators bounced ideas off of each other and riffed on learnings during our weekly Open Studio sessions.
The Forefront community was given a rare glimpse into their creative processes as they embraced the process of building in public, sharing each breakthrough and vulnerability with care and growing as creatives in the process. The dialogue from these sessions dug deep not only on each creators' individual artistic philosophies, but also what it means to be a creative in the digital age, at a time when art exists in a context of environmental degradation, inequality, and rabid rushes for wealth. We saw artists embrace biomimicry and the reflection of natural forms in mediums such as Blender and Unity, with D3MO's lush environmental soundscapes and Nico's intricate community, architecture, and game design in Agartha. We saw hyperlocal community engagement in an effort to use art as a vehicle for social change– in both the public ledger and the public sphere– with Entes' detailed portraits and "vortex" installation in an iconic park in his native Peru. We also saw debates on how to approach one's craft, from the rigorous, self-imposed guidelines and rules embraced by Kabuki to the free-flowing, intuitive creative process embraced by D3MO and several others. Most of all, whether it was the incremental adjustments of noise and texture of Kabuki's Cables GL sessions for his generative NFT collection; Alex's meticulous sampling of percussion and audio editing in her live song production streams on Twitch; or D3MO's virtual sculpting process in Blender; the Forefront community was able to see the bleeding edge of digital craftsmanship and have a tangible impact on each artists' final work and process.
What both of these experiences taught us is that creativity is an infinite game that the current paradigm of individualistic creator tools fails to adequately capture. The future of online creation is creative squads and digital-first artist collectives that subvert digital creation tools to fill in the holes internet culture is missing and drive movement in the dominant culture. Our focus on social tokens and DAOs at Forefront is not just a governance and coordination tool, but a creative medium for bringing together top artists and giving them a way to more easily monetize what they create together.
Collective Empowerment
Giving our members utmost freedom to pursue their passions in a community context was key to upholding the Vibez Infinity Flow, and we achieved it by allowing for more free-flowing creative processes.
FF Labs optimizes for emergence. Regardless of technical or design experience, anyone is welcome to contribute ideas to public jam sessions, with the community organically choosing and prioritizing which ones most accurately meet the needs of the community at the moment, and the web3 ecosystem more broadly. Normalizing rapid experimentation allows us to stay on the bleeding edge of tokenization and get our community involved in product strategy in a truly pluralistic way. It's the creative prerequisite for us coming up with ideas such as Adjectives, a tailored community dashboard for the Nouns community, and Terminal, our flagship community metrics product.
The FF Journal also optimizes for emergent ideas, promoting original thinking from across the web3 space. This season, we featured essays from more freelance writers than ever, giving contributors from other communities an avenue to engage with our community and share cutting edge DAO2DAO thinking.
Providing loose structures that contributors can freely participate in when they see fit is our bet on creative drive being a core motivator for contributors. In future seasons, providing incentives for more sustained, deeper creative engagement in order to retain our talented group of contributors is a key focus for us.
Forefront contributor Neesh constructed the visual foundations of these lessons from Season 2 and beyond. This new visual direction captures the essence of what it means to contribute to a DAO and sets the tone for what we believe is the future of tokenized communities: a framework for incubating creative ideas – united under a single, strong vision – that eventually congeals into spinoff projects and products that add value back to the overall community.
In his sequel to our original Tokenized Communities essay, Jihad wrote that what makes tokenized communities valuable is that they "accrue value based on how well they can incentivize people to do cool stuff with their friends, and then pay it forward." By focusing on motion and growth, as well as abstract, natural forms that capture a sense of organic movement, we're reflecting the work we're doing to create tools and content that help tokenized communities collaborate better and more creatively into every aspect of our brand.
Forefront "Infinity Drop"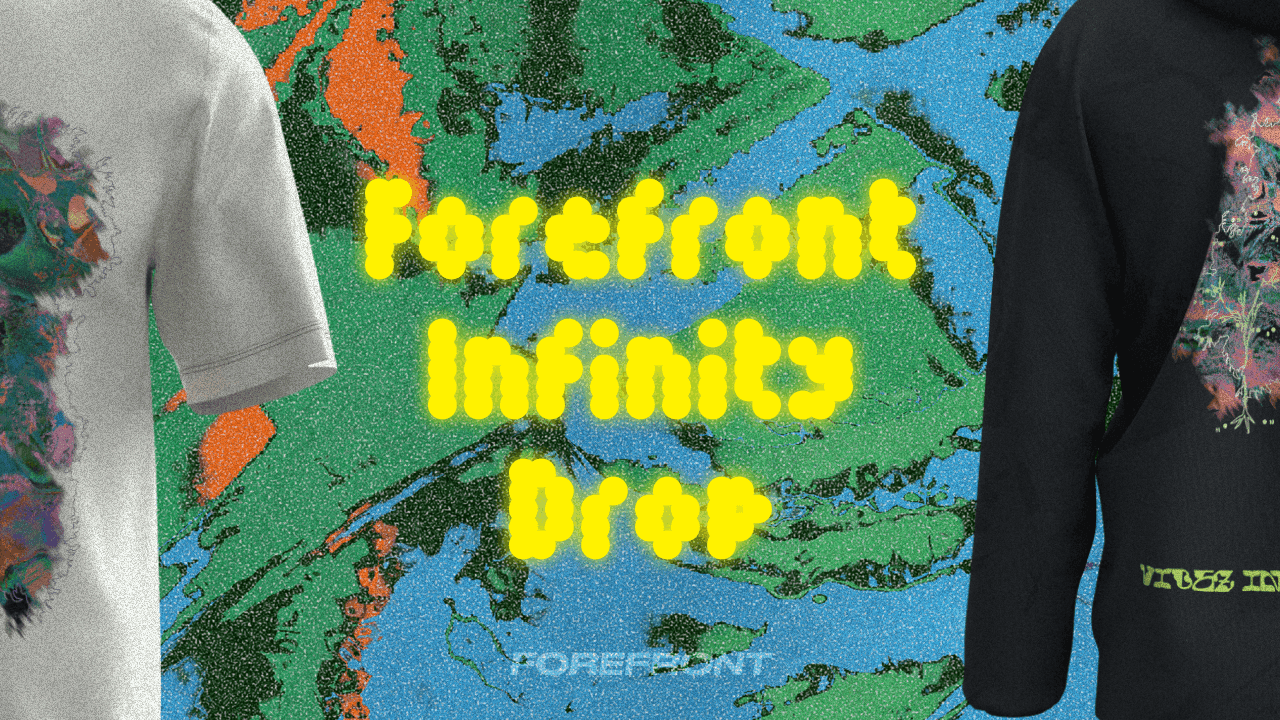 We're happy to present you two artifacts from Season 2 and the exploration that occurred: two iterations of Neesh's incredible design. To celebrate how far the community has come and the lessons we've learned, we're collaborating with Metafactory on the Forefront "Infinity Drop".
Forefront "Infinity White" S/S Tee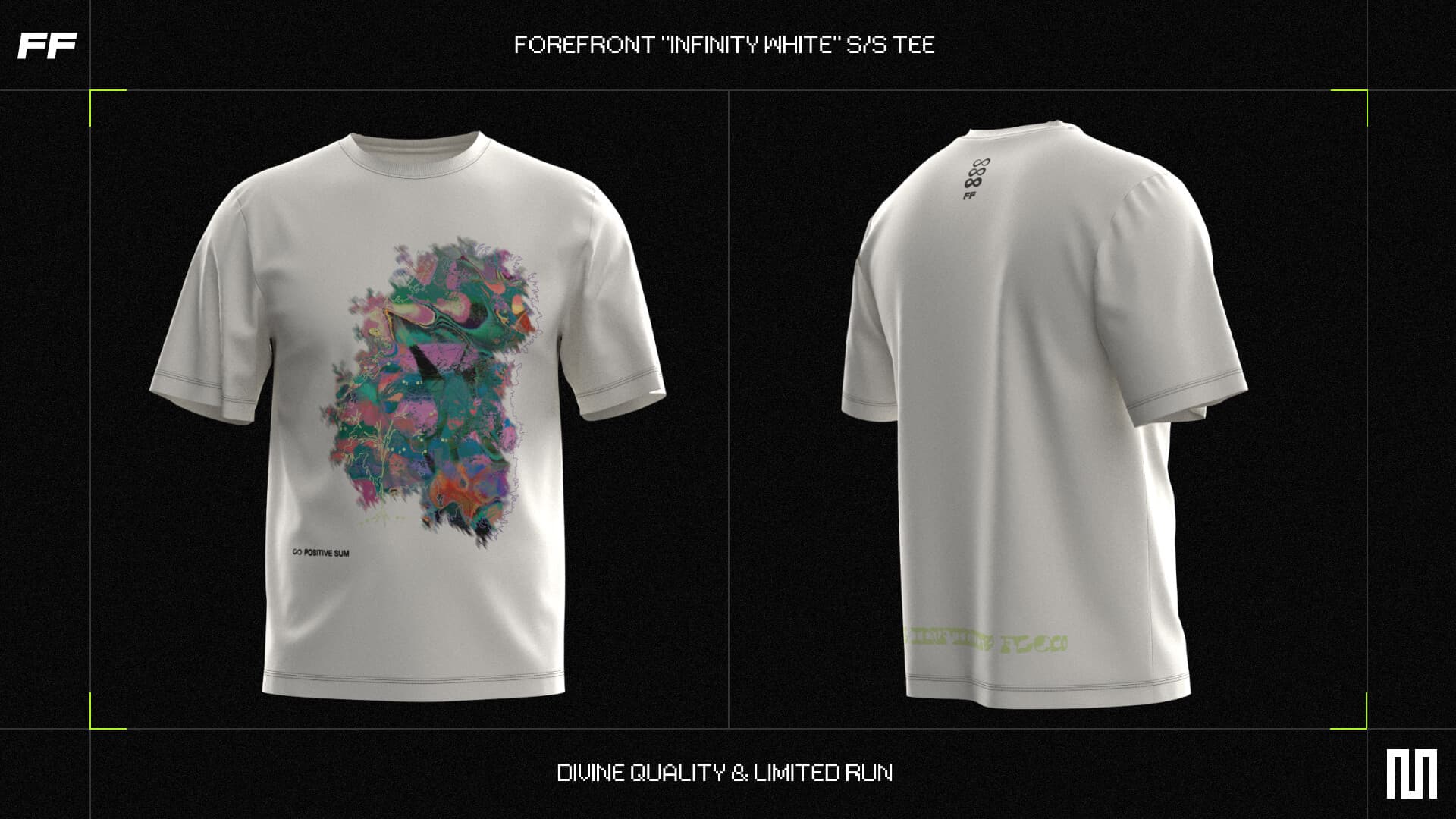 Forefront "Infinity Black" Hoodie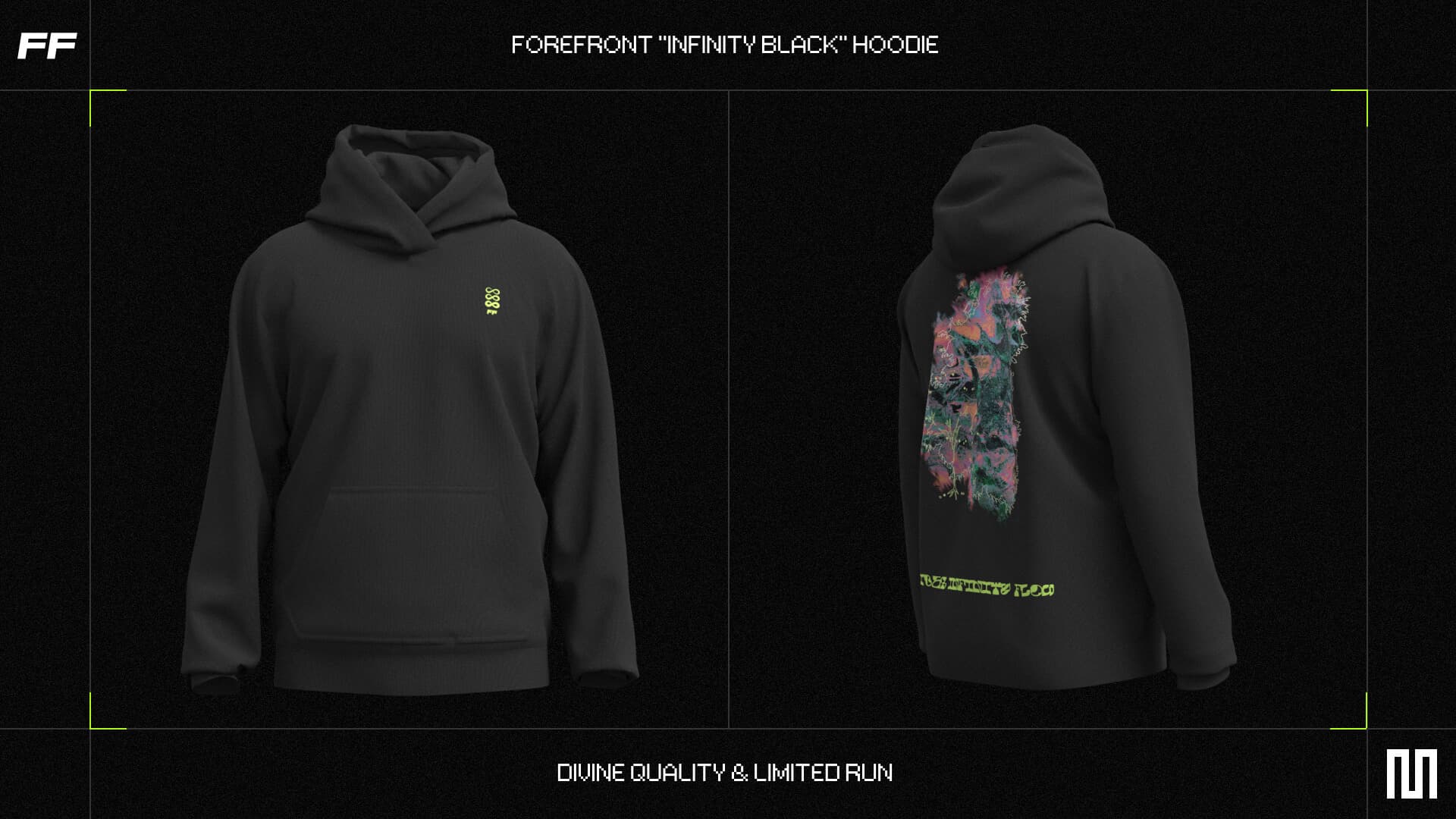 Product Details
"Infinity Drop" opens to the public Today, Sept 22 and will run until October 5, 2022.
Cop → "Infinity White" S/S Tee
Cop → "Infinity Black" Hoodie
---
Beyond Seasons
With Season 2 behind us, Forefront has a newfound clarity on our strengths as a community and what we want to accomplish moving forward.
Our product strategy is rapidly developing, with Terminal and Adjectives already live, and a new projects protocol for tokenized communities being developed right now.
Additionally, we're excited to further invest in media initiatives across the Forefront ecosystem, highlighting the ideas and builders at the frontier of tokenized communities and web3 social.
We're excited to open up new avenues to engage the Forefront community as we hone in on our core mission: building at the frontier of tokenized communities.
S ∞ 2