In September, we published Beyond Seasons, our review of where we've been and our grounding in where we are going. As we move past nominal seasons, and move into a chapter of Forefront focused on development, design, and discussion around tokenized communities, our team has been thinking deeply about how the network can be designed to best suit this mission.
Last week, Forefront launched an entirely new membership experience. We're excited to shed some light on the decision-making process and what's next for Forefront.
Over the last year, Forefront has become the home of tokenized communities: from media to product development to conversation, there is no better place to build at the frontier of tokenized communities than the Forefront ecosystem.
It was becoming increasingly clear, however, that while our mission was firm, our communication of that mission was not.
Folks were coming into the community for all sorts of reasons. Maybe they heard that Forefront was a good "starter DAO." Maybe they wanted to write an essay. Maybe they were checking out a product and wanted to learn more.
While the thread of tokenized communities held all of these initiatives together, the community was deeply fragmented.
At the same time, we had no formal definition of membership. Some things were token-gated, but "Forefront member" was becoming synonymous with "Forefront contributor." At first, that was okay! We wanted to incentivize contribution first and foremost. But in doing so, we were implicitly ignoring some really excited, curious folks who could help make Forefront even better through their participation.
Finally, we had a media and community arm that was creating lots of value for the ecosystem, we weren't sustainably generating revenue on that side of the ecosystem. Community members were looking to propose and get projects funded in line with the tokenized community thesis, but governance was clearly restricted by budget.
All of these factors pointed in the direction of designing the Forefront Membership Pass.
The Design
Designed in collaboration with Occulted, each NFT embodies the emergence and fluidity of tokenized communities through the juxtaposition of the Infinity Flow across a multitude of backgrounds grounded in natural colors, patterns, and tones.
The Infinity Flow comes from an essay written by SpaceXponential during Season 2 of Forefront, representing the polarity between individual autonomy and collective awareness in DAOs.
Occulted also helped design Forefront's Genesis NFT drop an early NFT project in the first year Forefront was getting off the ground.
There are 88 unique backgrounds, randomly selected at mint. Every single one of them paints  a beautiful picture of the emergence of Forefront's community and work.
The Access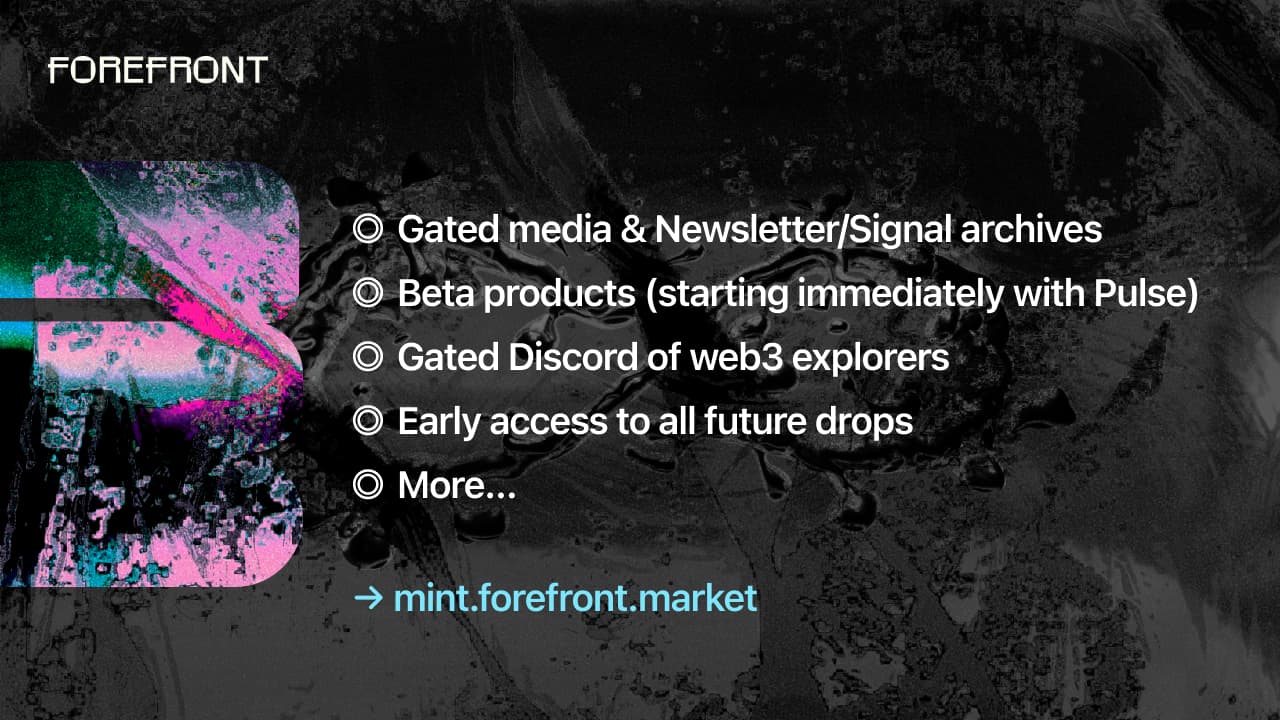 The Forefront Membership Pass is now the sole access token in the FF ecosystem. The $FF token will remain the sole governance token. We believe this dichotomy will make governance in the Forefront ecosystem even more valuable, given stronger legibility and a sustainable economic model.
In the new year, we'll be releasing a calendar of events, media, and experiences available to Forefront Members.
If you're not a member, don't worry -- the newsletter, public events, and essays will continue to be free.
The Mint
Minting is now live to the public at 0.3ETH.
For those who held partner tokens prior to Thanksgiving 2022, you can still mint at the discounted 0.25ETH.
For former Forefront contributors and Genesis NFT holders, you can mint for free (just pay gas).
There are only 888 passes available. Once sold out, it will be up to the Forefront community to put to governance how community inflation will evolve over time, and how future revenues will be allocated.
The Next Chapter
We could not be more excited to usher in this next chapter of Forefront. As we continue to develop new products and media at the frontier of tokenized communities and web3 social, our community will have infinite opportunities to build, learn, and create at the frontier of this new world.
You can learn more about everything that Forefront is up to, including our membership program, in the FF Wiki.
To infinity.
-- The Forefront Core Team